We all have mental health – pupils, parents, families and staff. Mental health affects how you feel, think and act. It refers to your emotional, psychological and social wellbeing. As a school we recognise and appreciate the way in which our mental health can change on a daily basis and over time, and can be affected by a range of factors.
It's important that we all take care of our own mental health as well as that of others. Mental health is as important as our physical health and plays a key role in allowing us to:
learn and explore the world
feel, express and manage positive and negative emotions
form and maintain good relationships with others
cope with / manage, change, setbacks and uncertainty
develop and thrive
Supporting and developing the mental health and emotional wellbeing of pupils, in order for them to flourish, is a whole school priority at St Cuthbert's. From the very start of our pupils' education, we adapt our teaching, curriculum and provision, to provide them with the necessary knowledge and 'tools' to recognise and respond to their own and others' mental health.
As a school we recognise the importance of supporting the health and wellbeing of all members of the school community and we continue to respond to the varying social, emotional and mental health (SEMH) needs within it – acknowledging the impact of this on the development of our pupils. Professional development opportunities and close links with Merseyside Youth Association and other external services enable staff to implement 'ROAR Response to Mental Health' in order to manage and support the needs of the school community. This whole school approach supports all pupils in developing their emotional literacy, emotional regulation and resilience to 'bounce back' when faced with challenge or adversity. Our endeavour to achieve our vision in providing the highest quality educational experience for all of our children is unwavering, maintaining an overriding priority of pupil well-being.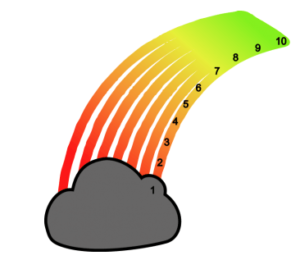 The Roar Rainbow
CAMHS stands for Child and Adolescent Mental Health Services and is part of the NHS. It is CAMHS who can be referred to in order to assess and treat young people with emotional, behavioural or mental health difficulties. Referrals to CAMHS can be made by parents/carers, teachers and GPs. More information regarding the service can be found via the following link: